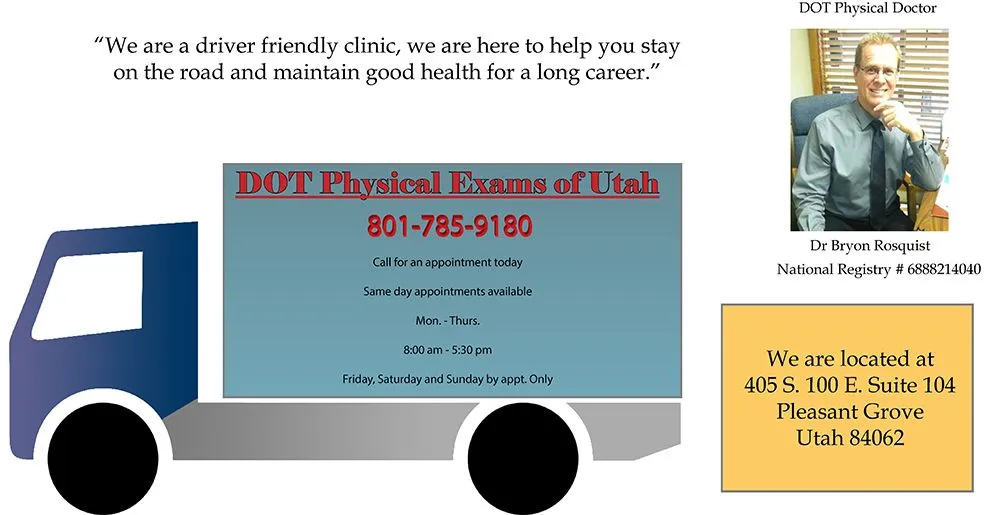 Dot Physical Drug Testing Utah - New Patient Health History Form - Required
This lets us know the history and current state of your health. What questions, concerns, goals, regarding wellness can we help you with? Let us know!
Once your body has fully healed, it is important to come in for periodic adjustments to avoid problems in the future. Usually, this only requires a quick visit to the dot drug testing program 1-4 times per month, based on your lifestyle and goals.
Dot drug and alcohol testing is not required as a part of a dot physical exam, but your Company may request to have drug and alcohol test be done at the same time. Dot drug testing and blood alcohol testing are separate tests and separate charges.
Parking
Tons of parking for cars & trucks but big rigs will need to park at the curb on 100 East. Plenty of room there for big rigs.
Rosquist Clinic believes in the value of wellness care for you and your family and have maintained a pricing structure that allows care for all budgets. Our office participates in most insurance programs. We also accept auto accident and workers compensation cases. For patients who have little or no chiropractic insurance coverage, flexible payment programs can be arranged. To learn more about our payment options for chiropractic and wellness care, you can call our office directly.
Why Must I Be Required To Have A Dot Urine Test?
The dot urine test is just a kidney screen to test for pH, Specific Gravity, sugar/Glucose, Protein, and Blood (upon request). It is done to determine that there is no early onset of conditions like High Blood Pressure, Kidney Dysfunction/Infection, or Diabetes.
According to the US Department of Transportation (DOT), jobs in safety-sensitive areas require you to take a dot test. In these areas, not only your but public safety is also at stake. Many companies are associated with transportation and their workers must participate in DOT drug test to detect the use of drugs that may prove dangerous. Although any drug can be checked by the dot drug testing panel, the most commonly checked substance is alcohol. Dot drug and alcohol testing are done using dot saliva alcohol tests, dot alcohol testing breathalyzers and specifically in labs using EBT devices.

If you are in pain when you first come into our office this may include: ice or heat application instructions, certain activities or positions to avoid, and at home exercises and/or stretches. If you desire, our dot physical drug test team will work with you also to create healthy habits and routines for your lifestyle. Every person is unique, therefore everyone requires a customized wellness plan. The purpose of our wellness program is for you to achieve good spinal alignment, have a healthy diet, exercise, and maintain a positive mental state.
Commonly detected drugs by dot test are marijuana, cocaine, opiates, heroin, codeine, etc. The positions that require you to have a dot drug test are bus drivers, pilots, aircraft maintenance personnel, flight crew, subway operators, etc. As an employer, you must read all the regulations mentioned by dot drug testing program and must make sure that your firm follows all the regulations. After 1st January 2018, dot drug and alcohol testing incorporate a 5-panel drug testing, which includes marijuana, cocaine, amphetamines, opioids, and phencyclidine.

Rosquist Clinic - DOT Test offers our patient form online so they can be completed it in the convenience of your own home or office.
If you do not already have AdobeReader® installed on your computer, Click Here to download.
Download the necessary form(s), print it out and fill in the required information.
Fax us your printed and completed form(s) or bring it with you to your appointment.
-->
A simple way to get the tests done is through a random dot drug testing consortium like Rosquist Dot Testing Clinic. All employees from a company can enroll in our consortium and get the best dot drug tests done. Rosquist Dot Testing Clinic can provide a quick and easy dot test with proof of enrollment and results. A dot drug testing programs are applicable in FMCSA, which includes road transportation, PHMSA that includes pipeline construction, FAA, which is connected with air transport, FRA for railways and USGC that includes water transport. A commercial motor vehicle driver may be required for a dot random drug testing anytime for any reason.

5 Reasons To Choose… A Driver Friendly™ DOT Physical Drug Test DOCTOR
Appointments are made for the driver's convenience – We see you on time, and save you time by registering you with the DMV.
The examiner makes sure your documentation is correct and that your have a valid medical card.
The examiner will guide you reasonably and fairly through all the requirements to qualify you for a DOT medical card.
The dot physical cost is all inclusive and fair.
All our doctors are DOT Certified and validated on FMCSA National Registry of Certified Medical Examiners.
Call us at 801-785-9180
Dot Physical Exam Services
DOT Physicals
School Bus Physicals
DOT Drug & Alcohol Testing
Randomized DOT Drug Testing Consortium
DOT Alcohol Testing
Non-DOT Drug Testing
Dot Urine Test